15 Ago

6 windsurfisti che hanno fatto la storia
il fondatore dei giochi olimpici una volta ha detto: "Lo sport va a cercare la paura per dominarla, la fatica per trionfarne, la difficoltà per vincerla."

Pierre De Coubertin,
I campioni dello sport di ogni tempo sono gli uomini e le donne che hanno saputo superare i propri limiti, ma anche quelli degli altri, che hanno saputo infrangere record già stabiliti e guadagnarsi un posto nella storia dello sport.
Ci sono atleti nella storia del windsurf che più di altri hanno incarnato questo spirito diventando leggende e veri e propri fari per le successive generazioni, spingendoli ad intraprendere ed emulare la stessa strada.
Robby Naish
A livello internazionale il re assoluto, l'icona, colui che più e prima di ogni altro rappresenta il windsurf e la sua storia ha un solo nome e cognome: Robby Naish. Classe 1963, nasce in California ma cresce alle Hawaii e inizia a praticare prima il surf a otto anni e poi il windsuf a 11.
Nel 1976, all'età di soli 13 anni, primato ancora ineguagliato, vince alle Bahamas il neonato campionato mondiale di windsurf, che poi riconquista per altre 3 volte. Dal 1976 al 1981 domina la scena internazionale vincendo tutte le regate più importanti.
Nel 1981 il windsurf diventa uno sport professionistico e Naish si insedia alla prima posizione del ranking mondiale, posizione che manterrà fino al 1987, vincendo 20 titoli nelle diverse discipline.
Ha creato il primo sinker (un primo modo per definire le tavole corte e con poco volume che prevedono la "partenza dall'acqua"), adattando un Mistral Competition che veniva accorciato tagliandolo all'altezza della scassa di deriva. Con questo prototipo Naish affrontava le onde, saltandole e surfandole, dando vita ad una nuova disciplina: il funboard. Forse non tutti sanno che è stato uno dei primi atleti sponsorizzati da RedBull insieme a Bjorn Dunkerbeck, di cui parleremo dopo.
Naish è anche un pioniere del kitesurf dove ha vinto 2 titoli mondiali slalom ed 1 titolo mondiale nel salto. Di tutte le discipline del windsurf quello che lo appassiona meno, per usare un eufenismo, è il freestyle. In una intervista ha detto: "Il freestyle sono gare che in questo momento riscuotono un gran successo tra la gente, tra la gente che non ha niente di meglio da fare". In carriera è stato ben 24 volte campione del mondo. E' entrato a far parte della Hall of Fame del PWA nel 2002.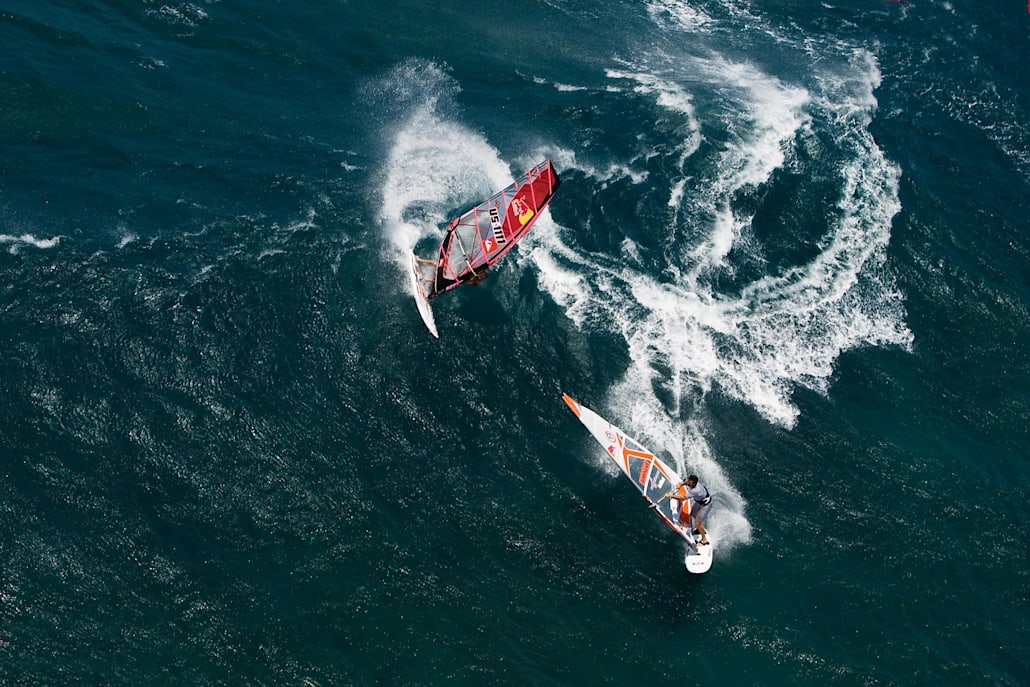 Anche l'Europa ha avuto i suoi eroi, che non hanno nulla di invidiare agli americani.
Bjorn Dunkerbeck
Due sono le scuole che hanno sfornato più campioni, quella olandese e quella francese.
Su tutti probabilmente spicca Bjorn Dunkerbeck.
Tredici volte campione del mondo di slalom, nel 31 ottobre 2006 ha realizzato il record di velocità, per la quarta volta, sulla distanza del miglio nautico su windsurf in acque marine, nella Walvis Bay, in Namibia.
La punta più alta è stata toccata nei 500 metri con 82,13 km/h sull'acqua.
Adorato da molti come l'ultimo windsurfer, in bacheca ha sette titoli del campionato mondiale PWA Wave e 12 campionati mondiali complessivi PWA.E' stato probabilmente l'atleta più universale esistito, diventando campione del mondo slalom, e freestyle: "Ho lavorato in questo sport per tutta la vita," ha raccontato. "È la mia passione e vivo per questo ogni giorno."
Antoine Albeau
Il colosso francese Antoine Albeau domina la scena mondiale ormai da più di venti anni. Il windsurfer francese ha vinto ben ventiquattro Campionati del Mondo di Windsurf in diverse discipline a partire dal 1994, l'ultimo il titolo PWA del 2018 a 47 anni.
Albeau detiene il record di velocità, migliorato tre volte da lui stesso: l'ultimo è del novembre 2015 con una punta di 53,2 nodi (quasi 100 km/h) sul canale di Luderitz in Namibia, un canale artificiale progettato appositamente per offrire le condizioni di acqua perfette.
Con il windsurf ha il record di attraversamento del canale della manica, che separa la Francia dal Regno Unito, con 5h e 58 minuti.
Anche l'Italia vanta le sue figure da imitare.
In attesa che Matteo Iachino, primo italiano di sempre a diventare campione del mondo PWA nel 2016, scriva altre volte il suo nome sulla coppa più grande, non possiamo che iniziare da Lei.
Alessandra Sensini
Direttore tecnico Giovanile e Vicedirettore tecnico della Nazionale della Federazione Italiana Vela, componente della Giunta Nazionale Coni, membro della Commissione atleti del COE e membro della Commissione Giochi Olimpici del COE, Alessandra Sensini, ha scritto pagine gloriose del windsurf italiano, unica atleta al mondo a salire sul podio olimpico in quattro olimpiadi consecutive, vincendo tutte e tre le medaglie, oro, argento e due volte il bronzo.
Nel 1982, grazie alle sorelle sale per la prima volta su una tavola da windsurf.
Ha partecipato a sei Edizioni dei Giochi Olimpici. In carriera ha vinto 10 titoli mondiali, 5 titoli europei, 2 titoli ai Giochi del Mediterraneo, una World Cup del Circuito professionistico Windsurf e 23 titoli italiani.
E' nel 1985 che ottiene il suo primo successo nei Campionati Juniores Windsurfer a Formia. Il primo grande successo arriva nel 1987 quando vince il suo primo titolo Mondiale Mistral a Manly Beach in Australia. Il primo titolo Mondiale assoluto arriva nel 1989 in Texas.
Nel 2000 e nel 2004 le viene conferito il Collare d'Oro del Coni, nel 2006 ottiene il Diploma d'onore, nel 2008 vince l'Isaf World Sailor of the Year a Madrid per essere l'unica donna al mondo ad aver conquistato 4 medaglie olimpiche consecutive nella vela.
Cesare Cantagalli
Cesare Cantagalli è nato a Faenza.
E Faenza non è nemmeno sul mare, ma è riuscito lo stesso ad entrare nella storia del windsurf non per i titoli vinti, seppur essere stato a livelli altissimi a livello internazionale per diversi anni, quanto per aver inventato, a soli 16 anni, lasciando di stucco pure Robbie Naish, una delle manovre più spettacolari che si possano fare con una tavola e una vela, il cheese roll, altrimenti noto come killer loop.
Una passione travolgente quella del faentino, iniziata a soli nove anni, così intensa da spingerlo a 15 anni a lasciare la Romagna e a trasferirsi alle Hawaii, per volare, il 26 ottobre 1986, alla sua prima Aloha Classic, dove nessuno era arrivato mai.
A dieci metri di altezza.
Dopo essersi assicurato il suo posto nella storia del windsurf e ispirato generazioni di ragazzi nel tentativo di imitarlo, nel 2008 Cesare ha unito le forze con l'amico Gianni Valdambrini per lanciare il noto marchio di tavole i-99, ispirato al numero di vela di Cesare I-99.